Quizzes, Tests, and Exams
What quiz question types are available?
Click on the question type below to learn more:
Learn more about Quizzes in Canvas
---
What are the best practices and options available to manage quizzes, tests, and exams in Canvas?
Tips and considerations
Before the quiz, test, or exam
If an instructor knows in advance that a specific student will require more time to complete a Quiz, Test, or Exam the instructor can use the "Assign To" setting on the quiz in question. This will allow the instructor to enter a unique due date, available From and Until date for a specific student. How do I assign a quiz to an individual student?
If there are concerns about Internet connectivity where students might be disconnected from Canvas, then we recommend you provide a practice quiz (e.g., using questions not related to the content of your course). A practice quiz will help students determine if their internet connection might be an issue when accessing, taking, and submitting the exam. Additionally, you may consider providing alternate plans to distribute the quiz, test, or exam. For example, email students the quiz, test, or exam questions and have them email back their answers.
Designate a communication channel for students to reach you if they are having an issue. Connect with students through the established channel before the quiz, test, or exam starts to confirm they can reach you.
During or after the quiz, test, or exam
Once instructors have published a quiz, the Moderate Quiz button will appear on the right side of the quiz page. The Moderate Quiz feature allows instructors to control the quiz settings for each student in your course, and shows the following options and information:
View the progress of student submissions (How long a student took to take a quiz or if they are currently taking the quiz, you'll see the remaining time the student has to complete the quiz).
View the number of quiz attempts each student has taken.
Provide extended time for timed quizzes (Typically used for students who need extended test taking time due to accommodations).
---
What online quiz and exam security tools are available?
The following tools are available in Canvas to provide secure online quizzes, tests, and exams to students.
Students should use a wired ethernet connection during high-stakes online exams. A poor internet connection can prevent students from completing quizzes and exams in Canvas. We DO NOT recommend students take online quizzes and exams using mobile hot spots, nor public or unsecured networks as these connections are unreliable. See our help page for more information about internet connectivity issues.
---
Can I preview a quiz to see how students will see it?
Yes, before a quiz is published, you can preview up to 25 quiz questions and answers. After the quiz is published, you can use Student View to view the full quiz.
If you are using Canvas' New Quizzes feature you can preview the full quiz before publishing. Note: In order to use New Quizzes in your course you will have to first enable it in the Settings –> Feature Options menu.
---
What are quiz Question Banks and Question Groups?
Question Banks
A question bank is a repository for questions that can be added to a Canvas quiz or quizzes. With a question bank you can create hundreds of questions around a single topic, or upload hundreds of question per chapter from publisher resources. This provides an opportunity for teachers to select from a wide variety of questions when developing a quiz, developing more than one quiz for a specific assessment strategy and rotate them between terms, or even draw a random set of questions into a quiz using question groups.
Using bookmarked question banks it is even possible to create quizzes in several courses for which the question items are drawn from the same banks.
How do I create a question bank in a course?
Question Groups
Question groups allow you to place multiple questions within a group for students to answer. You can choose the number of questions that should be answered from the group and how many points to assign each question. Creating a question group randomizes questions within a quiz, and all questions in a group come from a question bank. This ability to use question groups, helps improve the security of an online assessment.
How do I create a quiz with a question group linked to a question bank?
---
How do I share Question Banks with another instructor?
There are a few ways to do this, but one way is to make a quiz in your course that contains all the questions from the question bank. Then export the quiz as a QTI file, share it with the other instructor (via email, for example), and have the other instructor import the QTI file into their own Canvas course.
Alternatively, you can manually enroll an instructor to your course that contains question banks and have them "bookmark" the question bank. This will allow the instructor to access the "bookmarked" question bank in their own Canvas courses.
---
How do I add an Honor System question to a quiz?
Instructors in Canvas can add the Honor System Pledge as a question to their Canvas quizzes.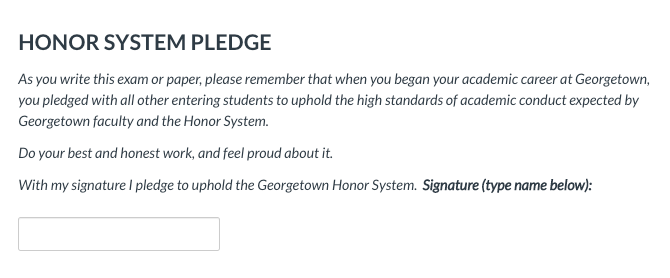 Note: Student responses to the Honor System Pledge won't affect the outcome or grading of a quiz, test, exam (responses are worth 0 points). Faculty will not be alerted if a student fails to answer the Honor System Pledge. Use SpeedGrader to view student responses to the Honor System Pledge.
Access your course in Canvas and click on the Quizzes button on the course menu.
a) For an existing quiz: Click on the name of the quiz and then click on Edit.
b) For a new quiz: Click the +Quiz button.
Click the Questions tab.
Scroll down on the page and click the Find Questions button.
In the Find Quiz Question pop-up box, click on [1] Honor System; [2] click the box next to the Honor System Pledge (Fill in Blank) question; [3] (optional) add the question to an existing or new question group; [4] and then click Add Questions.


(optional) Drag and drop the Honor System Pledge question to the top of the page. You can use the drag and drop option to reorder quiz questions or groups.
Scroll down to the bottom of the page and click Save or Save & Publish.
---
Don't see what you are looking for?
Check out the Get Help and Training & Support pages for more resources.